VSA/Oberlin Bass Workshop 2022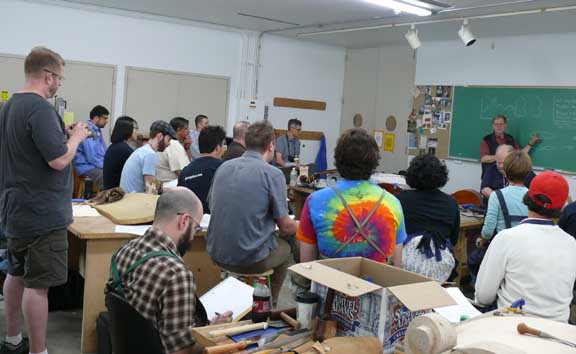 The next VSA/Oberlin Bass Workshop is scheduled for the week of June 26-July 2, 2022. We're looking forward to another busy but rewarding week, working together. (We'll finish and pack up on the evening of Friday, July 1, then depart on Saturday, July 2.)
"Everyone teaches, everyone learns," is the basic principal established by Vakahn Nigosian, founder of the program at Oberlin. With this in mind, the Bass Workshop will bring together those interested in bass lutherie, with a mind toward sharing experience, knowledge, and ideas.
We anticipate that most participants will be professionals working in shops, perhaps bass specialists, or those in violin shops wanting to learn more about bass. We also expect we'll have some space for experienced amateurs, wanting to further develop their skills. The hope is that everyone will leave business and competitive concerns at home, with the belief that by helping each other, we raise the standards of our profession to the benefit of all.
We are pleased to welcome some new faculty/staff. So the faculty this year will be Robbie McIntosh, Trevor Davis, Keiran O'Hara, and Jay VandeKopple, with Joey Naeger joining us as shop/logistics assistant. Past faculty have included Arnold Schnitzer, David Gage, Jim Ham, and Bill Lakeberg. I (Jay VK) have agreed to coordinate the Workshop, and will be the contact person for questions, applications, etc.
Tuition for this year has been set at $1300 for a dorm with A/C, which includes tuition and 5 dinners.
Starting in February, I will send application forms to prior participants and those who have inquired about participation. From this Applicant List, we will review them and make decisions on the Participant List. The University will contact these regarding payment of fees, likely in April.
Also, remember that the VSA sponsors this program, so attendees are expected to be VSA members. Lunch will normally be on your own. We've generally liked to have dinner together, and have made plans to do so again this year.
The 2020 Bass Workshop was cancelled, due to the Covid-19 Pandemic. This year it looks like we can try to move ahead to working in person. In order to protect us all, we will follow the protocols 1) full vaccination including boosters, 2) masking with KN95 or N95 level protection, and 3) social distancing.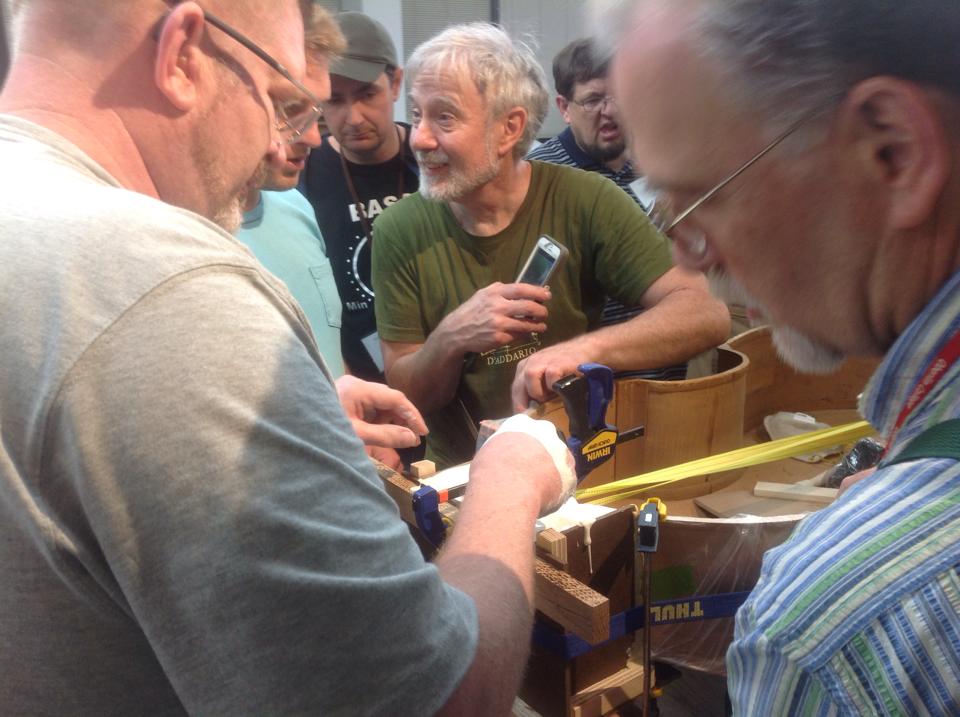 Each day during the week's schedule, there will be presentations and demonstrations by the faculty, guests, and attendees. For a given topic the idea is not to show THE way to do it, but to share approaches or explore how things work and find out! We will actively seek and encourage contrasting ideas from all participants.
Most of each day (and evening) will be devoted to projects. Participants should plan to bring projects to work on. If you can't bring one, you can certainly team up with others on a project. As we get closer to the Workshop, I'll contact everyone about what you're planning, and we'll create a Project List. Then on the first day, we'll have attendees affirm which Projects they'd like to work with (more than one may be possible, depending on how much needs to be done).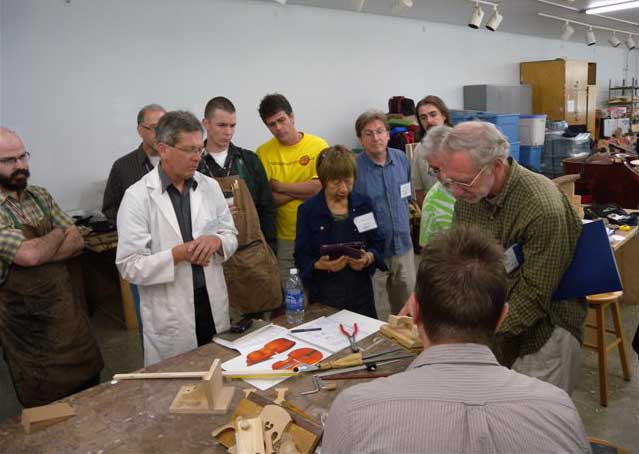 So participants should bring tools, ready to get to work. It would be great also to bring favorite tools and jigs. As we all have to develop many of our own tools, it doesn't make sense for each of us to recreate the wheel. We always have a Show-and-Tell session during which we share these ideas.
This should be a wonderful environment where we can share ideas, helping to move our profession forward.
For further information or an application form, contact:
Jay VandeKopple
vandekopple@fordham.edu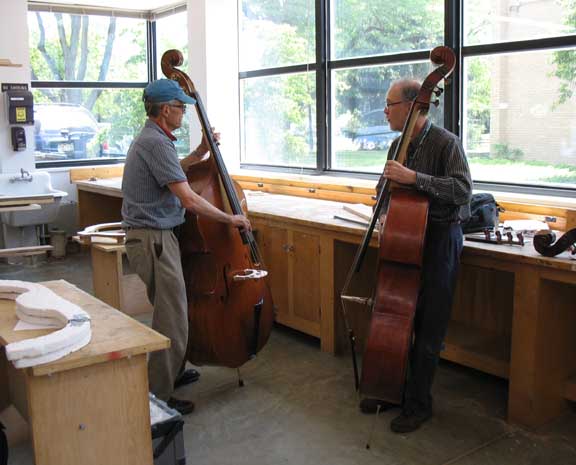 Faculty and Staff bios

Robbie McIntosh was born in 1951 and grew up in Lynn, Massachusetts, where his father's parents both worked in the shoe factories, and where his mother's Rhodes ancestors lived since 1640. He graduated Lynn English High School in 1969. Robbie studied architecture at Rensselaer Polytechnic Institute in Troy, New York, where he earned a Bachelor of Science in the Building Sciences, class of 1973. Architecture proved to be a viable choice for him even though he never practiced professionally. The structures and strength-of-materials training, coupled with the art, history, and design classes, prepared him for a lifetime of designing and building things and solving structural and mechanical problems.
In 1977 Robbie married Bliss White. They lived in a cabin that she built the previous year on her family's farm in Cambridge, New York. They added more space in 1981 when their first daughter, Annika, was two. Helen was born in 1984.
From a young age Robbie has had parallel interests in making music and in making things. In 1993, those interests came together when he embarked on the restoration of a double bass for Annika. That's when he met Lou DiLeone. What had been his cabinetmaking shop for 20 years became a bass repair shop, and he's been restoring and making basses now for the last 29 years.

Trevor Davis is a violin maker specialising in upright bass and cello building and restoration. He was awarded gold and silver medals (ISB 2015, 2019), numerous certificates (ISB, VSA 2013-present), and has instruments used in esteemed orchestras worldwide and by Grammy award winning jazz artists. He trained at the Violin Making School of America, apprenticed at Kolstein and Son NYC, was foreman at Lemur Music, then studied under Lisa Gass at LA BassWorks before becoming a restoration and repair specialist at the world-renowned Robertson and Sons Violins. He holds the luthier/vendor chair for the board of the International Society of Bassists as well as managing their annual Build-A-Bass project, coordinating the completion of a master quality upright bass finished in a week to be donated to charities/players. His workshop is located in Austin, TX focusing on new making and choice restoration, seeking to preserve and expand the the quality of upright bass and cello lutherie via the rigor of modern, cutting edge violin making technique.

Jay VandeKopple is a member of the VSA Board of Directors. He had been President of the Catgut Acoustical Society from 1999 until its merger with the VSA in 2004, and continues as Chair of the CAS Forum. He is a retired Professor of Math/CIS, formerly at Marymount College of Fordham University. Jay has a Ph.D. in Mathematics (with a thesis in a musical acoustics area) and a Masters in Computer Science. An accomplished bass player, Jay freelances in the Northern NJ area. His wife, Linda McKnight, is on the Double Bass Faculty and Manhattan School of Music and Montclair State University in NJ. Jay has run his own bass shop for over 35 years, part-time until his retirement from teaching in 2007 and continuing full-time since then. Jay is now beginning to make basses. His first teacher in bass repair was Joseph Cilecek of Hastings, NY; he studied under Karl Roy at the UNH Violin Craftsmanship Institute, and he has learned much from colleagues, particularly thru collaborations with Arnold Schnitzer.

Based in Houston, Texas, award winning bass luthier Joey Naeger repairs and makes basses for players in Texas and beyond. A bassist himself, Joey is an active freelancer in the Houston area. As a high school bassist, Joey attended a lecture by luthier Jim Ham which sparked his own interest in lutherie. While studying bass with Dennis Whittaker at the University of Houston, Joey was offered a position as a bass setup specialist at the Lisle Violin Shop. Working at Lisle, he set up and repaired hundreds of basses. Now, as an independent luthier, Joey devotes his time to making new instruments and servicing client's basses. Joey continually strives to improve his skills as a luthier by attending workshops such as the Oberlin Bass Maker's Workshop, UNH Bass Restoration Fundamentals workshop, and the Rodney Mohr Bow Rehair workshop. He has studied with a number of luthiers including Dorian Barnes, Arnold Schnitzer, and Raymond Schryer. Joey has used his experience as a performer to refine his setup work and published an article on fingerboard geometry in Bass World magazine. He has received awards for his instruments in both the VSA maker's competition and ISB maker's competition.

Arnold E. Schnitzer was born in late 1953 in Miami, Florida, where his father ran a cabinet shop servicing the art deco buildings of South Beach. The family, originally from the New York City region, moved back north in 1957 and he grew up in the New York suburbs. After High School he received a conservatory degree in music performance/composition, achieved while working full-time playing double and electric bass in various venues. His interest in woodworking was encouraged from an early age by his father, and included experiences in boat repair, carpentry and "fixing" his own instruments. Much later, he was mentored in guitar-making by Carl Thompson, and in double bass repair by Lou DiLeone. Mr. Schnitzer's non-luthiery careers have included music instruction, sales, executive recruiting, and residential carpentry. Since 1990 he has worked exclusively as a luthier and until last November ran the small business AES Fine Instruments in Brewster, NY. His hobbies include golf, hiking, trail biking and sailing. Along with countless repair jobs, modifications and restorations, he has hand-built 46 double basses to date, and collaborated on a few hundred others. He and his wife Barbara recently moved to Southern New Mexico, where they are enjoying a more relaxing lifestyle and beautiful weather. He has two grown children; his daughter is an accomplished Classical/Opera singer and Voice teacher in Boston, and his son works in web development. Arnold previously wrote a column for Bass Gear Magazine, and he participates with David Gage and Jim Ham in the ongoing Luthier's Corner column in the ISB magazine, Bass World. Arnold was honored by the ISB in 2013, as he was granted the Special Recognition award for Luthiery. He also holds 9 awards for bass from the ISB and VSA.

Patrick Charton (in memoriam) learned violin making in 1976 and opened his workshop in St Etienne (France) in 1982. He first specialised in double bass making and won several gold medals for Double Bass (Paris 1991 – VSA Portland 2014…). He also restored numerous historical Italian, English and French double-basses In the meantime he enlarged his activity to the whole violin Quartet and won several international awards (certificates of merits for workmanship and tone for Quartet, for viola, silver medal for cello in 2014…). His clients are high class musicians coming from USA Europe and Asia.
In 2003 he started developing innovations in the violin family, starting with the double bass: new design, new functionalities allowing to adjust action, pressure, sound post tension… His "B21" (Bass for the 21st century) is a success and is played by great double-bassists (jazz giant George Mraz, Principal bass of Paris Opera Sylvain Leprovost…). His modern viola "A21" is also adopted by high class musicians (Principal viola of Paris Opera, Ensemble Intercontemporain …)
In 2007 Patrick Charton opened a second workshop in Paris where he does repairs and sound adjustments for musicians coming from all over the world. He has trained several young luthiers, 4 of which won gold and silver medals in international competitions.

After studying string bass with Bill Blossom, David Gage studied string bass performance with David Neubert and Reggie Workman at the University of Massachusetts, while playing electric bass with various local bands in the New England area. Moving to New York City in 1976 to study with Dave Holland and Michael Moore, David apprenticed in The Bass Shop of Chuck Traeger in New York City. At this time David traveled to study acoustics and instrument construction/repair with Carleen Hutchins in New Jersey and Lou DiLeone in Connecticut.
Since 1978 David has been President of David Gage String Instruments, a brick and mortar shop and internet store located at 36 Walker St in lower Manhattan, that specializes in the restoration and sales of string basses, celli and guitars. Mr. Gage has also teamed with designer Ned Steinberger to produce a line of pickups and other electronics for string instruments that are staples in the industry. Originally and still primarily a string bass repair, restoration and. maker's shop he has worked with many major symphonies and jazz artists from around the world. The Gage Shop produces a carved copy of the classic American Abraham Prescott string bass. The Gage Shop also specializes in several lines of travel trunks and travel string basses to meet the contemporary demands of the active player.
David has written and consulted on many articles written on the string bass in such magazines as The Strad, Bass Player and Strings Magazine.
He is currently on the Board of Manhattan Youth, a community based program that promotes after school activities for the youth of lower Manhattan, including tutorial, arts and sports programs. David is serving his second term (previously in late 1980's) on the Board of the International Society of Bassists. In 2007 David received the Luthier Award presented every other year at the Convention of the International Society of Bassists.

Bill Lakeberg was born 1954 in Oak Park, Illinois. His interest in music began in high school when he bought an old fiddle that a friend had found in her attic. In college Bill studied photography and that is where he also met his wife Margie. They have a son, Robert and a daughter, Jackie. Bill switched to violin making and attended the Kenneth Warren School of Violin making, graduating in 1979. Since that time he has worked in Seattle for David Saunders and in Indianapolis for Frank's Violins. In 1987 he settled in Cincinnati where he worked for the Bass Viol shop for 8 years doing restoration and making basses. During that time Bill also founded his own business which specialized in custom violin varnishing. Since 2007 he has been at the Cincinnati Bass Cellar working on restoration and bass making. Bill has also won numerous awards including a VSA gold medal and 3 ISB silver medals for his basses.

Jim Ham was the founder and first Director of the VSA-Oberlin Bass Workshop. He has been repairing restoring and making string instruments and bows in Victoria BC Canada for over 40 years and has been an innovator of many repair and making devices and techniques. His basses which are in the hands of some of the finest players in America, Europe and Asia feature unique designs which improve on the ergonomics acoustics and structural durability of traditional instruments. All Ham basses feature his adjustable/removable neck system (first introduced at the ISB in 1995) which allows the string clearance to be adjusted while the strings remain in tune. He has developed a variation of this system which allows it to be used by other makers for new basses or retrofit into existing instruments. This system will be demonstrated at the 2016 VSA-Oberlin Bass Workshop.